Fri, 12/12/2014 - 21:45
New York braces for drunk Santa mob

Tis the season for a gang of wasted people dressed up as Santa to take over New York.
It's called
SantaCon
. Thousands of people in red suits pour into a certain area of the city -- prearranged by organisers -- to drink, piss and vomit, take selfies, get into fights and lose their phones/ wallets/ clothing.
Thousands of pubs and bars sign up to welcome SantaCon participants, but many more refuse to take part.
This year's pub crawl was supposed to take place in the Brooklyn neighborhood of Bushwick, but organisers pulled out after local businesses and politicians there
described the event as "repulsive" and "out of control"
. In response, pro-Santas bemoaned "hipsters" for stopping "bros" from having fun.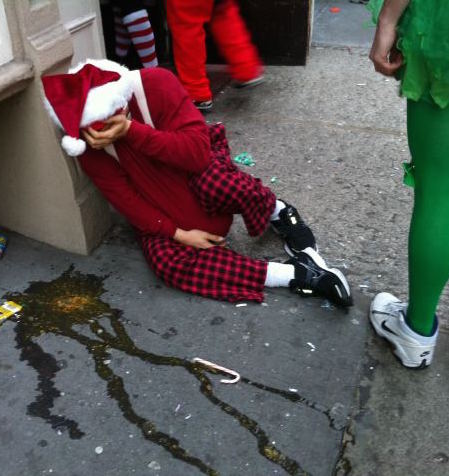 Last year, the crawl was
even banned from Midtown Manhattan
-- a bleak district of Irish pubs and skyscrapers (i.e.: somewhere that bros usually thrive).
"Having thousands of intoxicated partygoers roam the streets
urinating, littering, vomiting and vandalizing
will not be tolerated in our neighborhood," said NYPD Lieutenant John Cocchi, head of the precinct's Special Operations division.
Cocchi will be disappointed to discover that the (rumoured) location of this year's event is, once again, Midtown.
On Friday organisers said they were scaling back the event due to the unfortunate timing of the general public, which is planning to take to the New York streets in the tens of thousands as part of a nationwide march against police brutality.
These sober, purposeful rivals might steal the spotlight, but their cause should sound familiar to the Santas -- organisers
retained a civil liberties lawyer
this week to protect SantaCon's own, crucial, interests.
"I look forward to working with them to guarantee their activities are respected and are in accordance with the First Amendment,"
lawyer Norman Siegel told the New York Post
.
But can anybody really scale back these determined revellers? Last year the Santas promised to "clean up their act". The result? See video below.
Top photo: AFP. Middle photo: YouTube screengrab.
Comments or opinions expressed on this blog are those of the individual contributors only, and do not necessarily represent the views of FRANCE 24. The content on this blog is provided on an "as-is" basis. FRANCE 24 is not liable for any damages whatsoever arising out of the content or use of this blog.