Fri, 06/27/2014 - 05:19
American fans are winning the World Cup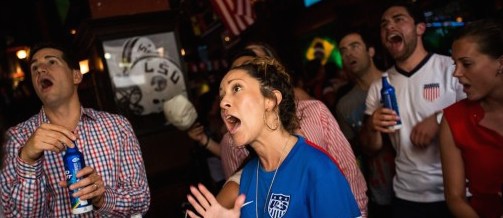 I'm enjoying this
World Cup
more than the last. Not because my national team is doing well - it's England, they're out already - but because I'm watching this tournament from America. Or perhaps more so, because I'm not watching this tournament from France.
Americans are the global newcomers to football. 'Soccer,' the old-fashioned name
by which it goes here
, has long been treated as something of an exotism; a certain import, an all non-American sport favoured by immigrants and the contrary. A few decades ago, it would have been a challenge to follow the Cup in the States without cable TV.
But today, the soccer scene has all but gone mainstream. As Will Leitch put it in the
New York magazine earlier this month
: "Soccer is about to explode in America, and the US soccer team is an indie band right before they break out."
We're not there yet. The delirium that takes hold of large swathes of Europe, Africa, South America and even Asia every four years - three Chinese people have actually died from late-night World Cup fever and two suicides have been attributed to the tournament in the past week - is less pathological here.
Which is a welcome relief. I watched the last World Cup from France. The one before that, Spain. And the one before that, England. Spain wasn't so bad, save for what seemed like a universal post-victory compulsion to ride your scooter on the pavement. The English (except for the truly detestable hooligans, who are generally avoidable by choice of venue), are largely cringe-inducing, as they weep from a bar stool or file out of the pub in silence, resigned to a sense of perpetual injustice. But the French. Well.
Nobody likes to watch football with the French. As I endured France's trashing of Switzerland in a sports bar in Manhattan last Friday, one of the bartenders winced as a group of French fans at the other end of the bar screeched excitedly and hurled insults at nobody in particular, eyes fixed manically on the TV screen for what seemed like the entire 90 minutes. "French fans don't drink, don't tip, and they bring a bad atmosphere," she complained.
The Americans, on the other hand, are pretty good at drinking, great at tipping (naturally) and infectiously good humoured about this whole World Cup thing.
They can be infantile, sure. During their match with Portugal on Sunday one man in the pub insisted on shouting "best player in the world, ha!" each time Ronaldo failed to live up to that accolade. There is a lot of laughter, too, which is grating. I do not consider myself a serious football fan (at least not since Nottingham Forest were kicked out of the Premier League in 1999), so I was surprised to find myself infuriated by ripples of laughter during matches.
But their eagerness to understand the points system and what exactly constitutes a foul; failure to lambast a player who misses a pass; and general commitment to the tournament despite having just met most of their own squad last week, is endearing. Even inspiring. If only they could cut it with hollering "USA, USA," as though Osama bin Laden had just been killed all over again, I might even support Team USA myself.
Tags for all blogs :
Comments or opinions expressed on this blog are those of the individual contributors only, and do not necessarily represent the views of FRANCE 24. The content on this blog is provided on an "as-is" basis. FRANCE 24 is not liable for any damages whatsoever arising out of the content or use of this blog.