Fri, 02/13/2015 - 02:42
Four years after DSK, what became of the Sofitel housekeeper?
Revelations in a Lille courtroom this week suggest that Dominique Strauss-Kahn's "libertine" lifestyle left a longer trail of victims than he might have realised.
None so prominent as Nafissatou Diallo, the Guinean housekeeper who
said she was orally raped by DSK
on the 28th floor of a Manhattan hotel in 2011.
What happens to the sexual abuse victims of the wealthy and powerful after the initial media storm? Diallo received a rumoured $1.5 million in damages from Strauss-Kahn following an out-of-court settlement (a third of which she lost to legal fees), but has she recovered from her humiliating part in one of the biggest political scandals of the century?
News last week that the 36-year-old had opened a restaurant, undeniably with those funds, ignited critics who claim she willingly helped bring about the downfall of DSK (once considered France's next president), even as he prepared to battle fresh sex-related allegations, this time for the
aggravated pimping of seven women
.
I went to the restaurant this week to see what Diallo had built with the money she so painfully accrued (even if she was recruited as part of a political ploy -- vaginal bruising, a torn ligament in her shoulder and having DSK ejaculate into her mouth was undoubtedly an experience she would have preferred to avoid, not to mention the humiliation and dishonour brought by such a desperate act, if that was the case).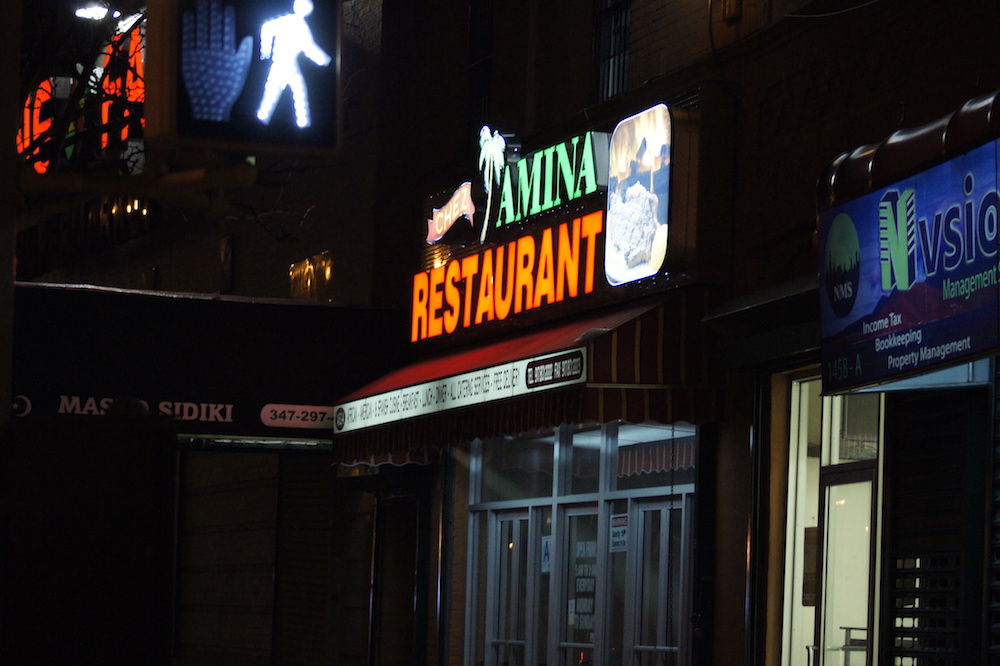 Diallo's restaurant on Boston Road in the Bronx. Photo: Sophie Pilgrim.
The restaurant, called Chez Amina, is wedged between a mosque and a supermarket and sits across from a Pentecostal church on a busy thoroughfare in the Bronx. It's a simple drop-in joint, selling "African, American and Spanish" food (I had a thieboudienne: a fish and yellow rice dish, it tasted exactly like it does in West Africa, delicious). The seating is faux-leather, the tables are formica and the decoration is non-existent. Patrons, many of them men and alone, all of them African or African-American, watched CNN, NBC and Senegalese national television on one of four flatscreens as they were served generous plates of meat, steaming rice and cassava. A young couple came in for an early dinner before the woman's shift at a taxi dispatch unit, a boy idled by the counter and skittered out with a heavy bag.
Diallo appeared, very much unchanged from when we last saw her in 2011, discreetly, speaking quietly to staff members and greeting customers warmly. After a week of what her lawyer called "harassment" from the press, I hoped to remain inconspicuous during my visit. Diallo had refused to speak to several French reporters who turned up last week, before disappearing from the restaurant entirely.
She worked the till and gave careful instruction to one of her staff in cleaning the coffee machine. Her presence seemed to have a reassuring, almost calming effect on the staff, a trio of skittish young African women, all of which were decked out in plastic aprons, rubber gloves and hats. The restaurant was orderly, and spotless.
'New life'
In an
interview with Newsweek in 2011
Diallo expressed pride in her cleaning job at the Sofitel hotel -- where she held an excellent record -- explaining that having an entire floor was an achievement she reached shortly before her encounter with DSK. "I keep that floor," she said. "I never had a floor before."
Last week Diallo's lawyer, Douglas Wigdor, told French radio station RTL that while Diallo had "more money than she probably ever would have had, she would without a doubt prefer to have remained a housekeeper at the Sofitel hotel, that none of this had happened".
Diallo (pictured right in 2011) faced suspicion and isolation from her community after the DSK incident, and only returned to the Bronx neighbourhood where she had "always lived" in 2014.
An immigrant who was granted asylum because she suffered genital mutilation as a child, details of Diallo's past remain cloudy. Illiterate, she is reported to have spent part of the settlement money on her teenage daughter's education.
"This restaurant is my new life,"
she told French daily Le Parisien
, which managed to speak to her by phone before journalists in the city turned up on the premises. "I'm just trying to do the best for my daughter".
As Diallo surveyed her restaurant, nodding to a familiar face and turning to remind one of her staff to put napkins in a takeaway bag, I checked my phone for the latest on DSK's trial in France.
"Calm, confident and smiling, Dominique Strauss-Kahn left court after further lurid details of his sexual mores apparently failed to undermine his main line of defence,"
FRANCE 24's Tony Todd reported from Lille
. "He always assumed women consented to (often brutal sex), he told the court... 'Because of who I am'."
To see Diallo's reaction to such a statement would be interesting, revealing even. But watching her do what she set out to do three years after her brutal encounter with DSK -- that is, as she told Le Parisien, to "provide New York with a good African restaurant" -- was far more satisfying.
Comments or opinions expressed on this blog are those of the individual contributors only, and do not necessarily represent the views of FRANCE 24. The content on this blog is provided on an "as-is" basis. FRANCE 24 is not liable for any damages whatsoever arising out of the content or use of this blog.