Tue, 09/23/2014 - 16:37
Drama and indifference at the UN General Assembly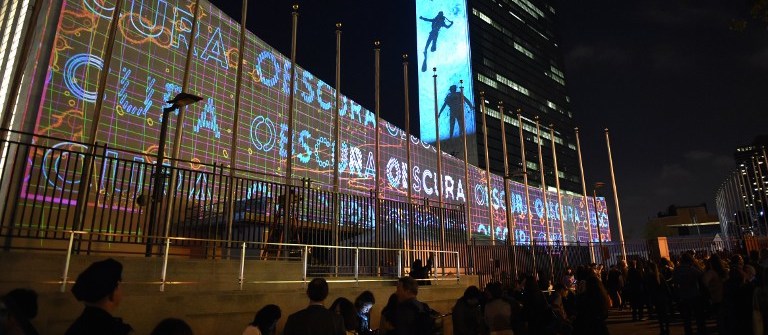 As world leaders pour into New York for climate talks and the annual
United Nations General Assembly,
mid-Manhattan has returned to a state of high-security labyrinth, entire blocks removed of tourists and overrun instead with the conspicuous secret service uniform of sunglasses, earpieces, and suits.
The assembly's stand-out performers of recent times – notably Iran's Mahmoud Ahmadinejad, Venezuela's Hugo Chavez and Libya's Muammar Gaddafi – will continue to be missed, but this year's assembly promises at least some drama (if not progress) as some 120 leaders take on a myriad of spectacular crises, from the terrorist group labelling itself the Islamic State to the Ebola epidemic in West Africa.

Before the annual UN meeting, the assembly plays host on Tuesday to the world's largest ever climate change summit, five years after talks in Copenhagen ended in disappointment. It is hoped that this gathering could pave the way towards a global treaty to tackle global warming amid a gradual policy shift in some of the countries traditionally impervious to such initiatives.

In the US, for example, where some 25 percent of Republican supporters believe that climate change as a problem does not actually exist, a march in New York on Sunday drew as many as 300,000 people, including star environment mascots Leonardo DiCaprio and Sting. The UN's Ban Ki-moon, who is eager to make tackling climate change his hallmark feat as secretary general, remarked that there would be no "plan B" because there is no "planet B" (a quote that he has likely been saving up for some time).

But as the meeting nears, any treaty – never mind one that is legally binding like the Kyoto protocol of 1999 – looks increasingly unlikely to make it past the governments of the world's largest polluters. In a show of communal indifference, China's Xi Jinping, Russia's Vladimir Putin and India's Narendra Modi are not even attending the debate, instead sending ministers in their place.

Spotlight on IS

While the crises in Ukraine, Mali, and the Central African Republic are all on the agenda, the misery that is set to dominate the assembly is clearly the crisis du jour, the Islamic State group (also known as the Islamic State in Iraq and Greater Syria, ISIS, ISIL, and now, in a move by the French government which would seem to complicate an already absurd situation, "Daesh").

US President Barack Obama, who is chairing a UN Security Council meeting on Wednesday, is to press the council on a resolution that would see potential fighters banned from travelling abroad. The 15-member council is expected to adopt the resolution, which was circulated late on Monday, shortly before the Pentagon announced that the US had launched airstrikes against IS targets in Syria.

The draft would mean that states which don't adhere to the travel bans would face sanctions. Some 12,000 people have travelled from 74 countries to fight alongside IS militants and other terror groups in Syria and Iraq, thousands of them from Europe and the US.

Obama will also be keen to consolidate a growing US-led coalition of allies willing to fight IS, which the US ambassador to the UN, Samantha Power, said on Sunday is now more than 40 countries strong. Power would not name the countries or their level of involvement.

Iran now a welcome guest

Generally accepted as public enemy number one, the IS crisis has led to the tentative appeasement of a customary UN troublemaker – Iran.

Former premier Ahmadinejad caused mass walkouts numerous times with his rambling lectures on the demise of the US, ominous "hidden elements" of the 9/11 attacks and most memorably, his description of the Holocaust as an "excuse".

Ahmadinejad's successor, President Hassan Rohani, has made use of the assembly in a contrasting manner. In the coming days, he will meet British Prime Minister David Cameron, in the first such meeting since the 1979 revolution.

The Iranian nuclear question, which had previously been a principal source of tension, has also been overshadowed by the IS threat. Two years ago, Israeli Prime Minister Benjamin Netanyahu was ridiculed for employing a ticking bomb cartoon and red marker pen to illustrate the Iranian nuclear threat. Netanyahu will be present this time around, but his not insignificant focus will lie with IS, whose danger level will surely be graded in a similar manner.

The Security Council will also grapple with the Ebola outbreak, which has now killed more than 2,630 people and could kill some 20,000 more, officials say, if major efforts to curb the spread of the disease are not implemented.

Meanwhile, the Ukraine-Russia crisis continues to simmer in the background, as the fallout from Monday's airstrikes in Syria – humiliating the Bashar al Assad regime – is yet to be felt.
Tags for all blogs :
Comments or opinions expressed on this blog are those of the individual contributors only, and do not necessarily represent the views of FRANCE 24. The content on this blog is provided on an "as-is" basis. FRANCE 24 is not liable for any damages whatsoever arising out of the content or use of this blog.