Tue, 07/08/2014 - 05:29
Done with the 4th of July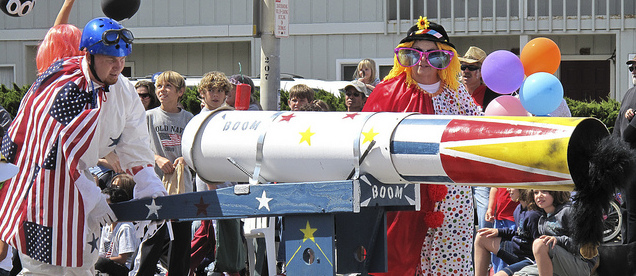 What to expect of July 4th? Noise, fireworks and an excess of red white and blue, I imagined. That all-American patriotism that seizes the nation like no other, on display...
Alas, the long weekend and its promised fete has been and gone, and cut-price 'Independence Day sausages' were the only indication I gleaned of a celebration.
Almost everybody I asked exclaimed that they would honour the holiday by "SLEEPING IN!"
The one friend I found with a festive plan was heading to a rave upstate with an assortment of hallucinogens. But that didn't seem very patriotic.
Apparently, that's because America's youth is not.
According to the
American National Election Studies
, which has been tracking American patriotism since 1948, national pride is dramatically lower among America's younger generations, and is not increasing as they grow older.
The latest edition of the study (which runs every four years) revealed that only 58 percent of millennials (18-33 year olds) say they 'love America'. That might sound quite high, but not when you look at older generations.
Among 69 to 86 year olds, the number of those who say they 'love America' is more than 20 points higher, at 81 percent. Asked how they feel when they see the American flag flying, a mind-boggling 94 percent of them say 'very or extremely good'.
Millennials, on the other hand, are less enamoured by the Old Glory, with a still impressive but far saner 67 percent getting a buzz from looking at it.
As The New York Times's
Lynn Vavreck
, who cited the survey's findings, pointed out: "Millennials, it seems, are a different breed."
But while some (within the country) might see the results as dispiriting, Vavreck drew a great positive from the survey, which shows that millennials are more committed than their elders to fundamental American principles like democracy, equality and opportunity. "In general,
millennials have more appetite for egalitarian principles
than older people," she wrote.
Not only, but "the patterns suggest the shifts are generational and not driven by stages in the life cycle". Which means, these kids will not turn into their flag-flying parents and grandparents.
If anything, they are mildly embarrassed by them.
Photo credit: Kevin Cole on Flickr.
Tags for all blogs :
Comments or opinions expressed on this blog are those of the individual contributors only, and do not necessarily represent the views of FRANCE 24. The content on this blog is provided on an "as-is" basis. FRANCE 24 is not liable for any damages whatsoever arising out of the content or use of this blog.